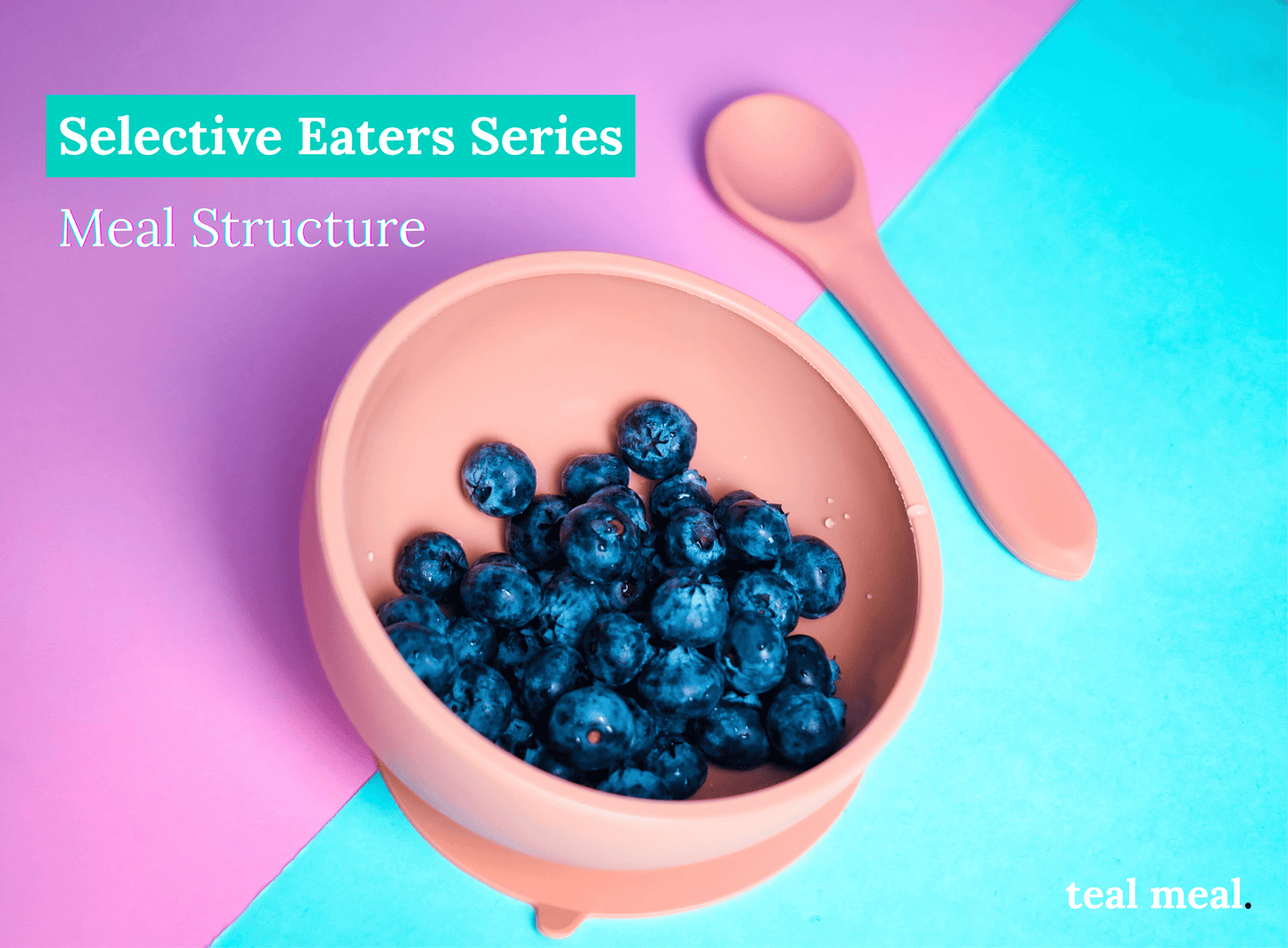 Selective Eaters Series
Meal Structure
By Colene Stoernell MS, RD, LDN
One of the very first things I often discuss with families when they have a child who has selective/picky eating tendencies is meal structure. Often families are used to a feeding schedule when the child is an infant, but when the child is relying on solid foods as their main source of nutrition, meal schedules often are discarded.  
Most children are born with the innate ability to know what their bodies need and therefore grow efficiently.
If we allow children to have food all day long, it interferes with this innate ability. This typically leads to not wanting to eat during meal times as the child has filled up on snack foods or calorie-rich drinks all day. Most children need between 2-3 hours between meals and snacks to feel hunger. During the "between" meal times, water is the only beverage recommended with a cut off time of 30 minutes before the meal or snack.
Establishing a meal structure with a child.
When establishing a meal structure with a child who is not "used-to" it, there will be some backlash and behavior challenges.  Please also bear in mind that the new rule applies to ALL family members as everyone will need to adhere to these rules for the intervention to work for many reasons.
One obvious one is that kids learn by example and will not understand if one family member is exempt from the rule while they are not. Another reason is the fostering of the different "hunger" types.
I am sure you have experienced sight and smell hunger before when you see or smell food and want to consume it even though you may not be hungry. This will happen to kids too if they see another family member walking around with a food item they like despite just having a meal or snack.  
During the transition time with meal structure adjustment, meals may be completely refused.
This is the time for caregivers/parents to be strong and firm. Planned snacks will play a very big role during this time. It is wise to always make sure the snacks are a preferred item and is conveniently given to them to increase the likelihood that the snack will be eaten.
I often suggest a bowl filled with snacks set out for 15 minutes. Sitting down at the designated meal/snack area is optimal, but having the snack out in an area where the child is playing works in the beginning.
A suction bowl such as the
 

teal meal half-moon bowl

 

is a great way to make sure the snack stays put.

Implementing a meal structure or plan may not be the only intervention that is needed for your selective/picky eater, but it is a start to the adventurous eater path.

Please note that if a child is struggling to grow, not advancing their diet texture, or becoming more limited in the foods they will accept; an appointment or referral to a feeding team is recommended to explore the root cause of the selective/picky eating.

 Colene Stoernell is a registered dietitian/nutritionist currently residing in Oregon who works with individuals and families with nutritional struggles. Throughout her career, she has had the pleasure of helping people in many areas of life. Her current areas of specialty are feeding-related disorders, IBD/IBS, Celiac disease, and intuitive eating. She is also the mother of a child with selective eating habits and oral sensitivities and therefore has a personal understanding of the challenges families face with children with feeding concerns. In her spare time, she enjoys being very active with her family in any outdoor activity.